I'm sure we all have this romantic notion about how the great intellectual works of the world came to be.
Where, after all, did Virgil write the
Aeneid
? I don't know, but I'll warrant most people picture it as a beautiful thing in and of itself.
Homer is always pictured in the breathtaking beauty of Hellas.
Great Augustine wrote his first Christian works in a place called Cassiciacum, Italy, which is the mountainous landscape below.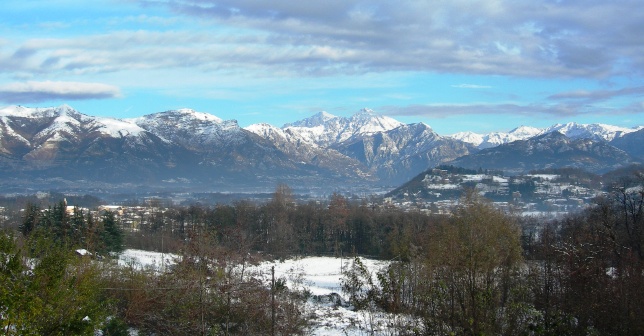 Picture Byron or any of the English poets, and you think of something like this:
Can the religious genius of St. Francis have occurred any where other than:
And what about the fervent, academically charged, devotion of Blessed John Henry Newman, could it have been nurtured in a setting other than such as this:
I guess I've made my point by now.
And where is it that I find myself at this moment? I am in my basement, my six-foot high ceiling basement, loaded with boxes, my weight equipment, which I share with my friends, the gentle arachnids. But you know what? It's fine. I have books, a computer, a hot cup of coffee whenever I need it. Sure, the dehumidifier and the air-exchanger buzz away, sure it's a little dusty, but it's mine. It warm enough, dry enough, bright enough.
After all, even Augustine in Cassiciacum would refer to the rain, the cold, the sound of water dripping, and how the expensive lamp oil was inhibiting his work. At a certain point you have got to say, this is not about anything other than, with the help of God's grace, my determination to work hard. No amount of scenery can make up for that.
And, you know what, if I need moments of inspiration, I live in Barry's Bay, and I have a car, a bike, and a pair of working legs. But it's not all romantic treed vistas in Colin's world these days. But, from time to time, they sure help.